For quality tools and aircraft lifts there has not been a supplier in Europe. Hangar Tools fills that gap by designing quality Hangar Lifts and Helicopter dolly's.
HangarTools is Designing, Producing and selling it's equipment in Europe, from our factory in the Netherlands and from our sales office in Denmark.
We have developed a range of standard products and are flexible to design customer specific solutions since 2008
Hangar tools is just 1 flight away.
Increase your hangar space and place your aircraft high and dry.
Customised to fit any aircraft.
Lifts for Nose-wheel or aircraft with conventional gear
Easy adjustable to fit several similar type aircraft
Lift capacity's from 750 KG till 2500 KG
Both 230 Volt and 400Volt lifts available
Dual coulomb and single coulomb lifts
Single coulomb has minimum ground obstruction <0,3 m2
high residual value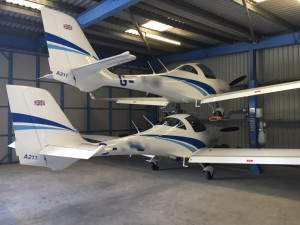 Creating hangar space
Eco-lift;
–Price starting from 5750,- € ex. works ex. VAT
-Very economical serial produced
-Customised in our factory to fit your aircraft
-230 Volt.
-Dual coulomb
-SWL 1500kg
Pro-lift
-Complete customer specific designed and produced,
-Customer specified colour
-400Volt 3phase.
-SWL from 750, 1500, 2500 KG
-Free standing or mounted agains hangar coulomb
-Build to the absolute highest standards
A Hangar lift ensures a safe parked aircraft free of "hangar rash" + an economical way of increasing hangar space.
Move your Helicopter quick, safe and simple!
We have 4 standard sized Heli Dolly's however, we can produce any size for any Helicopter.
-Prices starting from 7500,-€ Ex.Vat Ex. Works
-Split design for easy transport
-Anti slip top surface
-Wheels are customised to accommodate the helicopter weight and impact force
-All steel is powder coated to ensure a long lifetime
-Automatic brake when handling bar is down (optional)
-Reflective edges (optional)
Build to the absolute highest standart to ensure a long service life.
Heli Dolly is the way to go for safe ground handling by one person, simply land on the Heliplatform and move the Helicopter into the hangar.